Search
BUDGET
Using the slider below, find the vehicle that fits your budget
Looking to service your vehicle?
Models
Convertible

hatchback

SUV

wagon
Welcome to MINI of Peabody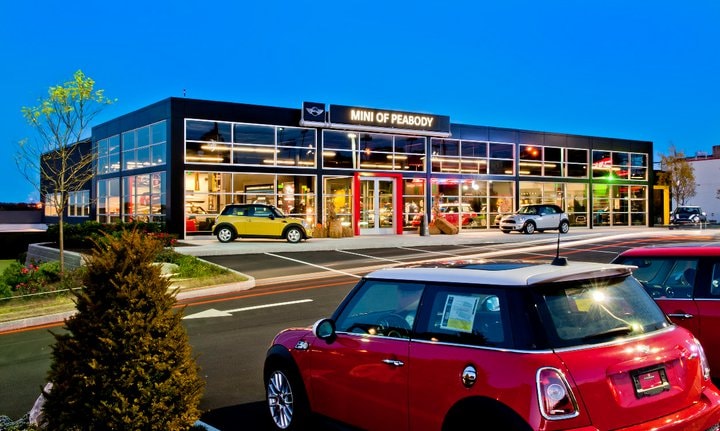 MINI of Peabody is one of the premier MINI dealers in the United States (not to mention one of the most fun & unique dealerships you'll ever step foot into). Our Massachusetts MINI dealership is at 209 Andover Street (Route 114) in Peabody...just a hop, skip and jump from Maine, New Hampshire & Vermont. We originally opened our doors on Route 1 in 2002 and haven't looked back. Since we opened, we've sold thousands of new and pre-owned MINI cars to the most enthusiastic people you will ever meet.

You'll always see a smile on our faces at the dealership. Some of our customers just pop in to say hello if they're in the neighborhood. We have always made it our priority to get to know our customers, who become like family. We welcome new members into our MINI family every day and nothing is better than watching a new MINI owner driving their brand new car off the lot. The sound of that engine is music to our ears.

We're always brainstorming new event ideas and ways to make the most out of the New England MINI ownership experience. We invite you to visit our home, and we hope you'll make it yours!
Mon

8:00 AM - 8:00 PM

Tues

8:00 AM - 8:00 PM

Wed

8:00 AM - 8:00 PM

Thurs

8:00 AM - 8:00 PM

Fri

8:00 AM - 7:00 PM

Sat

9:00 AM - 5:00 PM

Sun

Closed
Mon

7:00 AM - 6:00 PM

Tues

7:00 AM - 6:00 PM

Wed

7:00 AM - 6:00 PM

Thurs

7:00 AM - 6:00 PM

Fri

7:00 AM - 6:00 PM

Sat

8:00 AM - 4:00 PM

Sun

Closed
Mon

7:00 AM - 6:00 PM

Tues

7:00 AM - 6:00 PM

Wed

7:00 AM - 6:00 PM

Thurs

7:00 AM - 6:00 PM

Fri

7:00 AM - 6:00 PM

Sat

8:00 AM - 4:00 PM

Sun

Closed